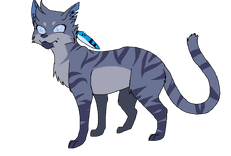 Spoiler Warning: ''Plot and/ or ending details follow.
Wel I culdn have kids with a stcik now culd i?"
-Jayfeather about Stick
Jayfeather is a blind tom and dies once, although he comes back to life again.
Appearance
Edit
Jayfeather is a grey tabby tom with sightless, blue eyes.
Love Interests
Edit
Jayfeather's first love interests were Stick and Dawnsparkle. He chose to be with Dawnsparkle because he couldn't have kits with a stick.
Mate:
Dawnsparkle: Living
Daughters:
Gleamstar: Deceased, verified StarClan member
Flamepelt: Living
Lakepool: Living
Mistakes
He is killed by Hollyleaf but however he comes back to life later in the book... somehow.
Ad blocker interference detected!
Wikia is a free-to-use site that makes money from advertising. We have a modified experience for viewers using ad blockers

Wikia is not accessible if you've made further modifications. Remove the custom ad blocker rule(s) and the page will load as expected.