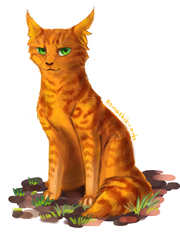 Spoiler Warning: ''Plot and/ or ending details follow.
Firestar is the original leader of ThunderClan and acts very out of character throughout the book. He fights his best friend over a she-cat, drops his life-long mate, and does many more agonizingly stupid things.
Appearance
Edit
Firestar is a handsome, flame-coloured tom with green eyes.
Love Interests
Edit
Firestar's first love interest was his mate, Sandstorm. Then he moved onto his new mate, Gleamstar.
Mate:
Gleamstar: Living
Interesting Facts
Edit
He chose Gleamstar as his apprentice because they snuck out of camp and hunted together.
Firestar has been called many different names over the span of the fanfic.
Ad blocker interference detected!
Wikia is a free-to-use site that makes money from advertising. We have a modified experience for viewers using ad blockers

Wikia is not accessible if you've made further modifications. Remove the custom ad blocker rule(s) and the page will load as expected.