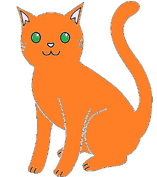 "and the onrge one wil be FireKit,"
 -Gleamstar naming her kits
Firekit is one of the kits of StarGleamStar and Jazzstar.
Despite being one of Gleamstar's kits, she is only mentioned a couple of times. The first time was when Gleamstar was thinking of names for her kits, and when she and her siblings were fighting Ashpaw.
Appearance
Edit
Firekit is a pure-orange she-cat with emerald-green eyes. She is said to look very similar to Firestar.
She is the only kit of Stargleamstar and Jazzstar that is currently alive.
Firekit is the offspring of Stargleamstar and Jazzstar, despite the fact that they're both female.
Despite all Stargleamstar's kin being major characters, Firekit is only directly mentioned twice.
It's possible Firekit is still alive because X.darkroses.x forgot about her when writing the story.
Mother:
Gleamstar: Dead, Verified StarClan member
Father (technically):
Jazzstar: Living
Brothers:
Fluffykit: Dead, Verified StarClan member
Tigerkit: Dead, Unknown residence
Brother-in-law:
Featherpaw (Fluffykit): Living
Sister-in-law:
Rainstar (Tigerkit): Living
Aunts:
Lakepool: Living
Redfur: Living
Flamepelt: Living
Uncles:
Nightrain: Living
Grandmother:
Dawnsparkle: Living
Grandfather:
Jayfeather: Living
Ad blocker interference detected!
Wikia is a free-to-use site that makes money from advertising. We have a modified experience for viewers using ad blockers

Wikia is not accessible if you've made further modifications. Remove the custom ad blocker rule(s) and the page will load as expected.