Spoiler warning!
This article contains plot details about an upcoming episode.
Bluestar is a side character is Starkit's Prophecy.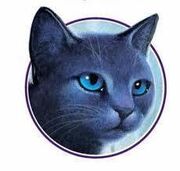 Appearance
Edit
Bluestar is a blue she-cat with blue eyes.
Bluestar is first seen in the prologue, gazing into a pool. She claims she has seen a prophecy about Starkit. She leaves with Whitestorm and Lionheart to tell Jayfeather.
In chapter 13, she is among the cats that give Stargleam The Ten Commandments.
In chapter 16, she gives Stargleam the life of leadership.
In chapter 20, she explains to Gleamstar that she will need to be reincarnated.
In chapter 21, she greets Gleamstar and explains to her how to get into the portal. She also admits that she doesn't know how the portal works, but it worked before.
In chapter 23, Bluestar is present during the battle between StarClan and the Dark Forest. She is the cat who kills Tigerstar.
In chapter 32, Bluestar defends Stargleam against Hollyleaf during Stargleam's kitting but is killed by Hollyleaf.
Mate:
Oakheart: Deceased, verified StarClan member
Son:
Stonefur: Deceased, verified StarClan member
Daughters:
Mosskit: Deceased, verified StarClan member
Mistystar: Living
Mother:
Moonflower: Deceased, verified StarClan member
Father:
Stormtail: Deceased, verified StarClan member
Sister:
Snowfur: Deceased, verified StarClan member
She is called Bullstar numerous times.

She was also mistakenly called Ballstar, Blueestar, and Bleustar.
Ad blocker interference detected!
Wikia is a free-to-use site that makes money from advertising. We have a modified experience for viewers using ad blockers

Wikia is not accessible if you've made further modifications. Remove the custom ad blocker rule(s) and the page will load as expected.